Subtronics On The Rise Of Riddim, Key To Sound Design & Future Of Bass Music
---
Subtronics discusses his musical inspirations, current favorite artists, and how he finds new music on Soundcloud.
Philadelphia producer Jesse Kardon is a true bass music enthusiast.
Under the moniker Subtronics, he has made a name for himself crafting destructive dubstep anthems with a distinct focus on sound design. Self-dubbed "angry robot noise," Subtronics' sound is abrasive, aggressive, almost maniacal in its intensity.
He has released music on leading labels like Never Say Die and Disciple, with many tunes making rounds on festival circuits. A hell of a DJ too, he stacks his sets with chops, double drops, swift transitions, and high energy tracks, creatively maintaining an intense flow.
Before his performance at NYC's Elements Music & Art Festival, we got to ask Subtronics a few questions. From explaining the flow behind creative sound design to lauding his inspirations, Subtronics' responses were candid, insightful and engaging.
EDM.com: For our readers who have never heard your music, explain your sound in a sentence.
Subtronics: I normally call it angry robot noise, but more recently there has been emphasis on flow and "bounce" as well, so let's go with that.
Who are some dubstep producers that inspired you to create bass music?
Ah so many and I'm already upset because of who I will forget to shout out in this section. I honestly have to break it down into categories because so many artists inspire different things.
SKiSM is the first producer who made basses that got me off my ass and question "how the fuck do they make those sounds?!" Amon Tobin inspired me to always seek out new and interesting sound design. Koan Sound will always be high on the list. Even bands like Radiohead, Ratatat, M83, Modest Mouse and Animal Collective play a HUGE role in why so many of my intros are kind of that high energy melancholy but weirdly kinda happy about it vibe.
Artists currently killing it are SVDDEN DEATH, Oolacile, Murda, Ubur, Samplifire, Kompany, Digitist, Al Ross, Subject 31, Chee, Kursa, Midnight T, Trollphace, Infekt, Space Laces, Virtual Riot, Trampa, SQUNTO, Boogie T, are putting out really forward thinking and innovative bass music. I am doing my own thing while incorporating elements that I like from what is around me.
Who are some rising bass music producers you're currently digging?
The obvious answers for sure would be Peekaboo, SVDDEN DEATH and Mastadon. I also think Trilla, Digitist, CLPR, ARTIX, Guru, Warned, Protial, Ravachol, Punishment, Exocutioner, Ranga and Dala have been killing it. Literally could also not be more proud of my dude HE$H for absolutely slaying it recently. It's been really great to see Calcium get some attention as well. There are loads of extremely talented and humble producers out there, ya just gotta dig.
A track that'll get the crowd headbanging harder than they have been all night?
Any SVDDEN DEATH tune or popular sample that everyone knows. You could play 'Ima die a boss and boy you betta believe it' into 'Africa' and the whole front row will be at a full 45 degree angle on the downbeat regardless.
You're big on sound design. What advice would you give to rising producers looking to find their own unique sound?
It is time-consuming but practice makes your workflow go faster and the more muscle memory you develop the easier and more fun the process gets. Once you hit a certain threshold of speed and ability it kinda flips and becomes INSANELY addictive and the only thing that is really fun anymore. For me it really came down to that *I needed to pull my hair out* frustration for about five or six years before everything kinda started to click and make sense. Others might have that in a shorter timespan. It's so extremely ridiculously worth it because once you are happy with your sound design, Ableton becomes the most fun video game in the world.
Predominantly, your style is aggressive and visceral. Ever thought of exploring lighter sounds, taking a left turn to try something completely different?
Yup. Totally have. I've put out a few low key tracks. One song called "Wonderwall," which was surprisingly well received a few years ago and a Drake bootleg like four years back. I'm still honestly kind of proud of that Drake track. I have about 10-20 unreleased not-high-energy-more-friendly-sounding tunes that I've been sitting on and slowly add to. I play them out sometimes, like this new one called "Pashmina Death Sauce." I honestly need to make that kind of music because after 8 years of just one over four WOMP WOMP WOMP songs you go insane, especially if you don't try and do something different every now and again. I'm extremely afraid to release or play a lot of it as the front row doesn't head bang so I subconsciously think they hate it. Past that, I LOVE writing weirder, softer stuff, because I always pick up some new unique trick or technique after some crazy epiphany that I can bring back into my regularly scheduled angry death noise. My recent obsession has been finding the middle ground between the two *weirder spacey lighter bass music vs. heavy dubstep and riddim* as it seems like potential semi-unexplored territory, always the most intriguing.
Where/how do you discover new music?
Scrolling through my SoundCloud feed. Normally a close friend with trusted taste in music will repost some gem he or she found, I'll obsess over it and the artist, then stalk that artist's friend's reposts and likes. I kinda just explore the whole group of production friends/clique of producers as we as artist seem to do that a lot, huddle together in packs based around vibe. Love finding new packs I've never heard about.
What do you think you'd be doing if you weren't making music?
Writing articles about music, throwing events and trying to manage or promote artists. My dad has been in the bluegrass and classic rock industry his whole life. When I was old enough to pick up a drum stick that is when he told me I was going to be going to lessons a few times a week. I kind of always knew music would be my entire life. Although, there was a phase where I had my heart set on being a professional skateboarder. I don't have nearly the courage to jump down big handrails like the pros though. If i had to pick something completely outside of music, I would probably want to do something that involved building lasers or building big car audio sound systems. Both of those used to be a big hobby of mine.
Maybe even just traveling around and giving poi spinning seminars, who knows!
Riddim is all the rage these days. Is it just a fad or is it here to stay?
Honestly, SO WEIRD how popular it got. I think the reason so many fell in love in the first place with the culture and vibe was because it was counter mainstream. It was cool because it wasn't cool. I believe the idea of riddim being a super popular thing will definitely not be around for that long. It's influences will be heard in a lot of stuff going forward, but even that is the silliest thing to say, because the sound is ultimately just a re-hashing of the wonky UK DUBSTEP (I repeat, DUBSTEP) vibe. Riddim to me is largely the re-emergence of the original *put your hood up gun finga* vibe from the old school style of dubstep being introduced back into American culture. It got loads more mid-range this time but still that bassline driven repetitive, almost techno-esque kind of darkness. That will always be around, whether it comes back with the subgenre named riddim, or whatever the next thing is, the idea of the counterculture, slept on and ignored bedroom nerds rising up and finally getting some credit for their hard work, will always be a thing. I love seeing something we all held so near and dear get super popular and new things becoming possible that we never imagined. We all thought it was too weird and different to be popular, and we all still honestly get a lot of hate from people that don't really get it, but if anything that just gives me more motivation to keep pushing.
Where do you think bass music is headed, what sounds will dominate in the coming year?
HALFTIME.
No long winded paragraph for this one, producers like Chee, Kursa, Seppa and Slug Wife are probably my personal top inspiration right now.
Biggest misconception about bass music?
That we all do drugs. I am sober. I only smoke (but I don't count that tbh). At my shows and other shows, that is what I do.
And the "just pressing buttons" misconception. I'd love to show anyone who assumes I'm "just pressing a button" my 200 lane 90% cpu usage post processing chain just pure insanity project files.
Must reiterate that first misconception, just because we enjoy electronic music doesn't necessarily mean we also enjoy drugs. Oh, and we're totally ready for halftime to take over the bass music scene, and for Subtronics' lighter tracks to see official releases!
PS, keep up with all things Subtronics over at his Facebook group here.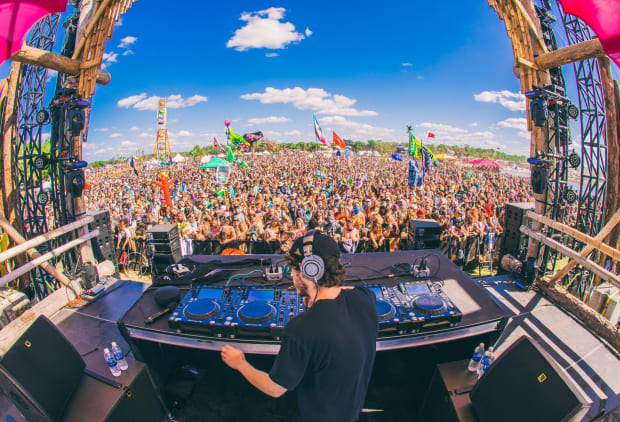 ---